Summer School Polytech FLOW
The undergraduate Polytech FLOW Summer School program is dedicated to the study of Grand Industrial Challenges in France. The 2019 program will focus on three main topics: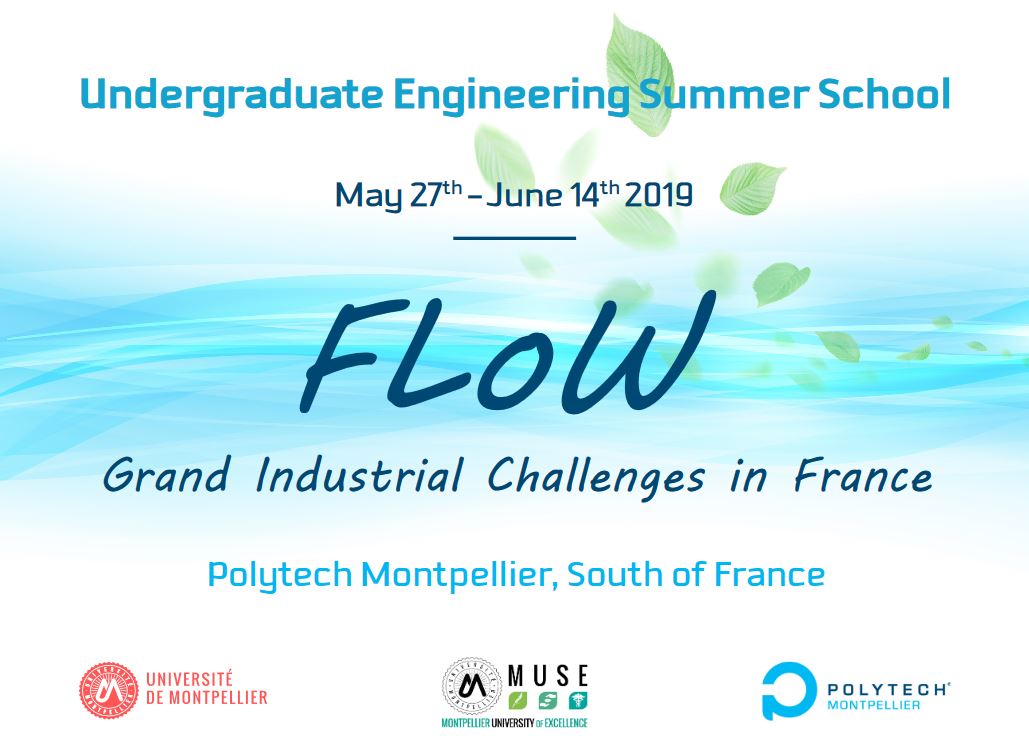 Food, Living Organisms and Water

(FLOW) – The FLOW acronym originally refers to the science and technology of water, milk, beer and wine. These items will be the subject of dedicated courses.

Energy and Sustainable Materials

– These courses will cover nuclear energy and renewable energy, as well as the science and technology of the materials involved in the production and storage of those energies.

Data Science and Management

– These courses will span a large range of the Data Science and Management spectrum, from the Internet of Things to Data Mining.
Document : Know more about FLOW
Program Dates
Polytech FLOW 2019 will welcome international students to a 3-week Summer School program in Montpellier, France, from May 27 to June 14, 2019.
Location / Accommodations
Students will be hosted by French families (max. 2 students per family), thereby enjoying cultural and language immersion. Montpellier is a mid-size French university town located near the Mediterranean Sea (South of France). It is renowned for its sunny weather, its ancient architecture and modern southern lifestyle, as well as its vibrant network of universities, research labs and technology-driven businesses.
Courses / Credits
Students will receive 15 hours/week of English-language lectures and practical courses at Polytech Montpellier, an internationally-recognized Graduate Engineering School of the University of Montpellier. They will also visit a research center or a company associated with the FLOW Program.
Each course will provide 2 European Credits (ECTS), corresponding to 1 US credit.
Social Program (Suggested – Final Program to be confirmed)
In parallel to Polytech FLOW courses, a full sociocultural program will be proposed. From the city of Montpellier and its surrounding Roman and medieval heritage sites (Nîmes, Pont du Gard, Carcassonne, Aigues-Mortes) to outdoor activities on the Mediterranean Seaside (the nearest beaches are only 10 km from the city) and in the picturesque countryside of the National Park of Cevennes, students will enjoy and discover one of the lesser-known – and most agreeable – areas of France.
Tuition and fees
Regular fees: 2000 €
Students from partner universities: 800 €
Including:
Scientific courses and labs (45h, 6 ECTS*) and related visitsFrench language classes (15h, 2 ECTS*)
Accommodation and meals (with host families)
Transfers and local transportation Pass
Sociocultural activities
ENROLLMENT (Deadline: February 15, 2019):
To enroll:
The online Enrollment Form is available here

Select up to 3 course topics and indicate your preferred choices.

Optional: for each selected main topic, select up to 3 subtopics and indicate your preferred choices.

Read and acknowledge the Admission Terms and submit the form.